Pavan Goyal and Associates (PGA) has started its operations from 2011 and is a collectively and professionally managed firm of chartered accountants.
PGA has a team of competent professionals from their field of expertise viz. Company secretary, cost and works accountancy, Information Technology, etc.
PGA provides Taxation, Advisory, Audit and Compliance services for all the sectors of business and maintains integrity, transparency and reliability in its services.
PGA provides investment consultancy services to their clients for optimum utilization of funds and diversification of risks, while maximising their returns. Providing project finance report and corporate taxation is one of the special services of PGA.
PGA has a well-equipped office with state-of-the art infrastructure and modern computerized systems that ensure quick and quality services to clients while maintaining the various compliance checks and confidentiality of the clients.
Our Story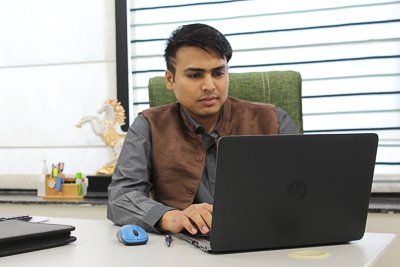 Pavan Goyal
Pavan Goyal is the founding member of the firm with expertise in Auditing & Certification, Direct Taxation, Management consultancy services and due diligence exercises. The firm specializes in assisting clients in establishment their business presence in India with operations at multinational level. The assistance covers all regulatory framework with respect to such presence, including the setting up of branch offices, liaison offices, wholly owned subsidiaries, export oriented units etc.
Mr. Pavan Goyal was also co-opted as a Sub-committee member in the year 2012-2013 at Pimpri-Chinchwad Branch of WIRC of ICAI. He is a visiting Faculty at various Management Colleges including the PC branch of WIRC of ICAI and ICWAI. Apart from teaching, he has co-authored books on Indirect Taxation for CA, CS and CMA students. He has represented client cases before Income Tax and VAT Tax Authorities at different seniority levels including regular dealings in Company Law and various certifications under applicable laws.
Our firm possesses expertise in Management Consultancy and Drafting of legal documents in wide range of corporate contracts – be it established or start-up firms.
Meena Goyal
Meena Goyal brings with her a unique blend of entrepreneurial insight and detailed understanding of the complex interplay of concepts and issues in finance, management and taxation.She frequently provides taxation and finance consultancy to corporate sector. Meena Goyal is a Chartered Accountant who also holds a Ph. D from Pune University. She has also successfully completed milestones in actuaries, multiple certificate courses and workshops staying up to date with current business and regulatory environment.
Dr Goyal is an entrepreneur with multiple start-ups. Her start-ups have strived to provide training, employment opportunities and financial independence to women. Dr Goyal believes that most of us are unaware how our small day-to-day actions and decisions hamper our financial viability in the longer run.  She recently started a blog with the aim to create awareness about financial literacy for one and all. It covers topics widely ranging from credit history to long term value investing explained in simple terms demystifying the technical jargon.
She holds more than a decade of experience in teaching key subjects related to Finance at premier management institutes and has authored multiple books in Finance, Strategic Financial Management, Direct and Indirect Taxation and Accounting for Managers that are widely popular and used across universities including management employees.As an active faculty at Indira Group of Institutes, her research papers are regularly published in various journals.

Call or Whatsapp on (+91) 9762763351